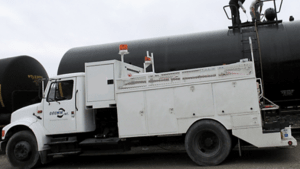 Mobile Rail Car Repair Services
Get your railcar back on track with our mobile rail car repair services. Our mobile railcar repair services provide the convenience, efficiency, and peace-of-mind needed when repair situations arise. Our on-site repair specialists have the knowledge and tools necessary to complete most jobs in a single visit.
Contact us for more information regarding our mobile railcar repair services. We have the expertise to provide mobile repair services in a single visit.
Mobile Railcar Service Area
At Drumm, we offer mobile repair services that provide an easy and convenient way to deliver the on-site repairs that will get your railcar moving again. Our railcar experts will travel up to 200 miles from Cincinnati, OH to provide you with the mobile repair services your railcar requires.
Mobile Railcar Repair Service Options
If you need mobile railcar service repairs call us at 513-641-4141 and we will schedule a mobile site visit to your railcar in a timely manner. Our service options include:
Eye Bolt Replacement
Outlet Caps
Reflective Sheeting
Railing/end Platform
Hopper Gate
Inspections
AEI Tags
Running Repairs
Troubleshooting
Mobile Railcar & Tank Cleaning Services
In addition to our mobile repair services, we will soon offer mobile railcar cleaning services out of our Worthington, MN location. Once launched, Drumm will have the capabilities to provide premium mobile tank cleaning services to locations throughout the Upper Midwest, including Minnesota, North Dakota, South Dakota, Iowa and Nebraska.
Contact Drumm for Mobile Railcar Maintenance & Repair Services Today
Mobile railcar maintenance and repair brings Drumm's quality services to you. Our mobile services offer you a convenient way to get your railcar back in working order, saving you time and money.  Whether you need your railcar inspected or need on-site repairs, we have expert repair specialists ready to help you with all your railcar needs.
Contact us for more information regarding our mobile maintenance and repair service options or request a quote for an in-depth price analysis today.