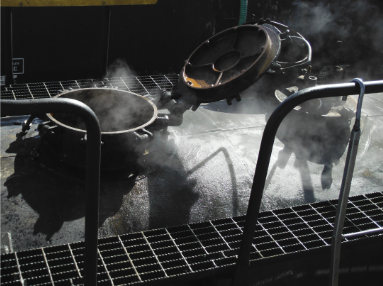 Railcar Tank Car Cleaning
Depending on your specific circumstances, your rail tank car may require one or more cleaning processes to bring it back to your requirements. At Drumm, we provide a wide range of tank car cleaning services to cater to your needs. Our standard tank car cleaning options include:
Detergent wash
Caustic wash or boil
Sanitize (hot water or chemical)
Steaming
We also offer tank car cleaning services that allow for proper cleaning of various materials that can build up in your tank car.
With over 50 years of experience, Drumm has provided the best railcar tank cleaning and hopper car cleaning services. We specialize in cleaning food grade and specialty chemical tank cars, offering both cleaning services and maintenance and repair services.  
Railroad Tank Car Cleaning & Inspection Process
The tank car cleaning process begins with an immediate, thorough inspection of the tank car to evaluate and determine what cleaning steps will provide the best results. This initial assessment will take into consideration the scope of work, the commodities that the tank car was hauling, amount of heel, and the parameters of the customer's cleaning requirements. The inspection process also allows for any obvious mechanical defect to be assessed for later repair.
Why Utilize Tank Car Cleaning?
There are several scenarios within the rail industry that would warrant the use of a professional tank car cleaning service. These occurrences often require the rail tank car to be thoroughly cleaned before they are either accepted or provided clearance for use with another commodity. These scenarios include:
Preventative Maintenance - Commodity shippers and manufacturers must set a reliable schedule for their cars to be cleaned regularly. This is to guarantee the integrity of the commodity from previous loads do not contaminate future loads and that of the tank interior surfaces remain in proper condition.  The cleaning schedule should vary depending on the commodities grade, resistance to temperature changes, moisture, oxidation, decomposition, stratification, and stability.  Schedule frequency may be set as often as every load, or as little as once every few years.
Compliance Testing – When a tank car is due for requalification, the tank must be cleaned so that the tank, valves, and safety appliances can be tested, reconditioned or replaced, and requalified for continued service.
Release – When a tank car reaches the end of its life and is ready for scrap or if it is reaching lease completion, the car will need to be returned in optimal condition. To provide a seamless transition of sale, or transfer, the tank must be thoroughly cleaned, sometimes broken down and sandblasted.
Security Nonconformity or Reject Product – If tampering proofing or chain of custody may have been compromised or if the product within the tank has been rejected; the commodities within the tank will need to be removed, and the tank cleaned.
Contact the Railroad Tank Car Cleaning Experts Today
When quality is a must, you can trust Drumm for all your railcar tank cleaning needs. From our quality systems to environmentally responsible solutions, we are committed to providing you with the best solutions for tank cleaning.
Contact us for more information regarding our tank car cleaning service options and maintenance capabilities or request a quote for further pricing information today.